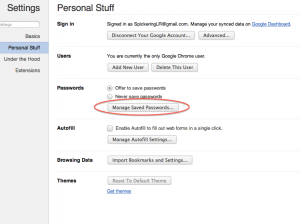 Ever had this happen? It's quite a shock and a lot of dismay. Today when I went to sites I visit often I noticed the Username and Password field weren't automatically filled out like normal. So I went to the password manager in Chrome and everything had disappeared! Well I found a solution HERE on a Google Groups discussion board. It seems to have worked.
This is for a Mac. What you do is first quit Chrome. Then you go to Applications>Utilities>Keychain Open up your Keychain Access program and all of your passwords should be in there. Mine were. Then you re-open Chrome and all the passwords and sites are re-populated in the Password Manager in Chrome. At least it worked for me. Whew! The Passwords in Chrome are in Preferences>Personal Stuff>Manage Saved Passwords.
Hope that helps. Let me know.